Ten ways to embrace an innovation mindset: Lessons from the Fall 2022 FSC Accelerator cohort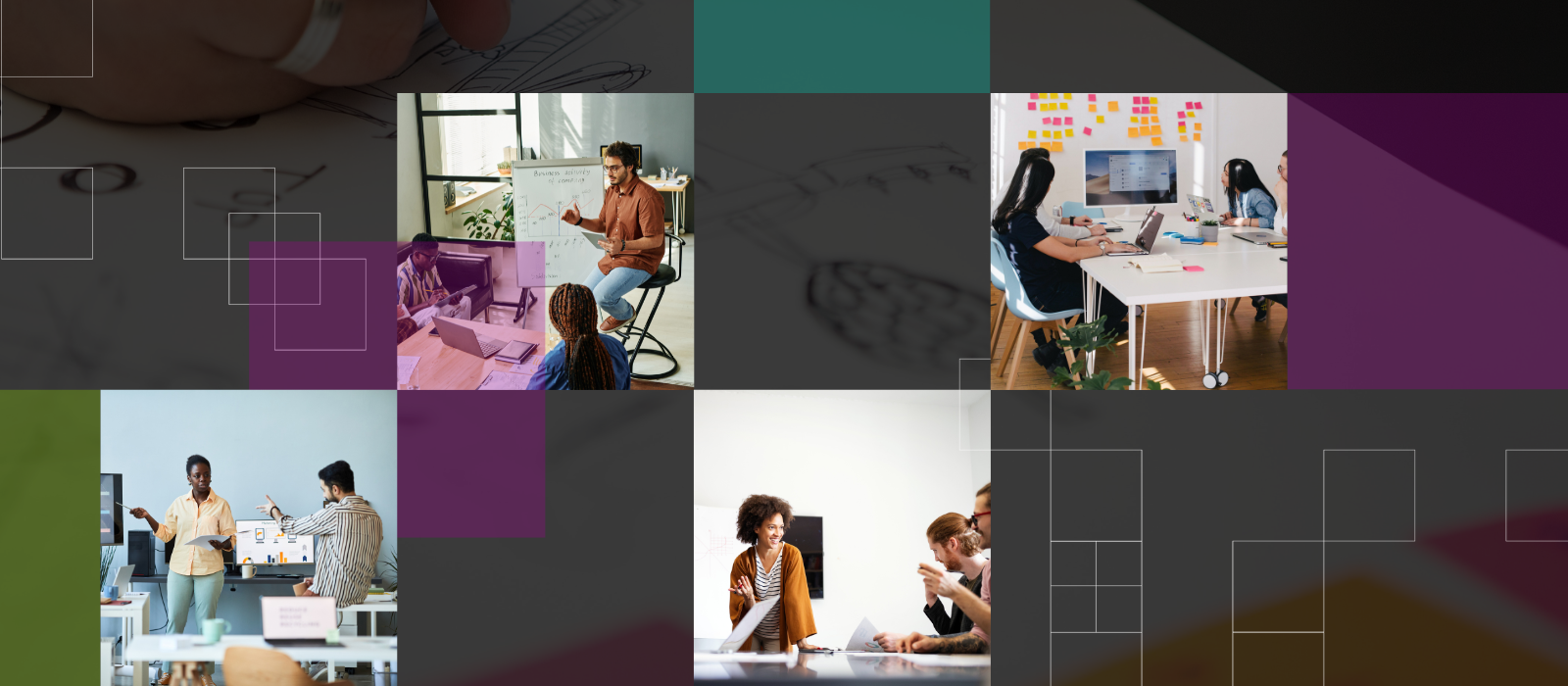 As innovation advisors who offered guidance to projects across Canada in FSC's most recent Accelerator program, we had the exciting opportunity to support 17 teams with coaching and feedback for four months on their use of innovation tools and approaches to their innovation journey as part of the 'future of work'.
The Accelerator program can be seen as a design 'sprint' for each project, where teams from each organization are supported to test some element of their 'hypothesis for change' to achieve greater impact in their work. This included challenges such as how to enhance participant engagement in skills training to deliver more effective programming, or helping organizations test a potential new service offering such as the integration of third-party data from other community development organizations to better understand user needs and inform program support.
The process of innovation is necessary but can be challenging, particularly given strict funding environments. It is easy to get caught up in day-to-day program delivery without taking the opportunity to reflect, consider or measure how we do our work and its usefulness to the people we serve, let alone how to approach things differently. That is precisely what makes the Accelerator opportunity so powerful for organizations – it allows space for experimentation and testing in new ways, with fresh eyes and 'room to fail'.
Innovation is often viewed as a luxury for status quo program delivery, but it is fundamental to ensure that we are delivering programs and services that are desirable, feasible, viable and impactful for the very people they are intended to serve. This requires both funding and time, which is where we come in as innovation advisors.
That is precisely what makes the Accelerator opportunity so powerful for organizations – it allows space for experimentation and testing in new ways, with fresh eyes and 'room to fail'.
Based on our experience working with these teams, here are our top 10 pointers for embracing an innovation mindset:

Start with small steps and adapt as you go. Be honest about what is working and what is not. While it takes some effort to set this up through thought and reflection, start with initial tests that provide validating data. Ask critical questions such as: why are we doing what we do, how, and who do we serve best?

Set the stage for real team-based learning by checking how your team is doing personally. Our work is heart- and people-centered, and our strategic work should connect to that reality.

Try to centre your explorations on your core purpose while removing your own ego from these efforts. This is not about finding fault, but instead about learning where your work is creating the most impact and value for communities. In fact, you probably already have a hunch about what needs to be improved and for whom, so follow it!

Create methods to capture feedback and input, and measure what you need to ensure you're learning about what's important: this is key to delivering stronger programming and services.

Embrace continuous improvement. Too often, organizations are driven by outputs, but ongoing reflection and mid-program assessment may point you in new directions that strengthen the impact of your work.

Tools should be seen as "works-in-progress", including: logic models, hypotheses for change, the Business Model Canvas, journey maps and service design blueprints. Continue to revisit these as you learn more about your program or service, how it is actually working, and for whom. Ask: What are the weakest parts of the design? What can we do to improve it? How can we test whether the improvements are effective or not?

Find peers or colleagues who can collaborate with you, from within your organization or a partner organization. This cross-pollination of ideas can help to create shared accountability and learning, as well as build your relationship

If there's not enough time for this kind of reflective and adaptive work, include it in your program design and/or push your funder to support this work.

Be accountable to your community: as you learn more about each other through testing key concepts and prototyping, be clear about which lessons you are applying and what these insights have led you to do differently. You may be surprised to find how insightful your community's input is on your work.

Make this part of your culture. It's not "extra work" if it's part of who you are and what you do every day.
As we look to the future, we should all be honestly reflecting on and uncovering what's working, what's not, and what we can do better in our changing environments. This is followed by testing out those new ideas with the 'right' people for their input and re-integrating it into our programs and services. That is innovation.
Chi Nguyen and Claire Buré are innovation advisors who supported the Future Skills Centre's Accelerator program. This post is one in a series of blogs about the FSC Accelerator.
The views, thoughts and opinions expressed here are the author's own and do not necessarily reflect the viewpoint, official policy or position of the Future Skills Centre or any of its staff members or consortium partners.