May 2020: FAQ
Shock-proofing the Future of Work
Applications for the Shock-proofing the Future of Work Challenge will be accepted and reviewed on a continuous intake basis starting May 26, 2020. The call is closing at 5 p.m. EST on Tuesday September 1, 2020.
Proposals will be accepted through an online form found on our webpage.
We are committed to ensuring all project proponents have access to the same information. To avoid possible unfairness, we are not meeting individually with project applicants or their partners, and we cannot provide answers to questions by telephone.
The Centre held informational webinars for potential applicants. Webinar recordings can be found on our website:
fsc-ccf.ca/engage/shock-proofing-funding-webinar/
Questions and answers from the webinar have been incorporated into this FAQ page.
The Call for Proposals is open to any eligible organization:
legally incorporated not-for-profit organizations, including not-for-profit social enterprises and registered charities,
publicly-funded post-secondary institutions,
industry associations,
professional associations,
an Indigenous organization that is a legal entity,
Municipalities or District Social Services Administration Boards,
for profit organizations (provided the project is undertaken at cost, with no mark-ups, profit incorporated or individuals.
If your organization does not have a formal board governance structure, you must be able to explain the structure for strategic leadership and accountability in your organization.
Early-stage projects focus on conducting research and design activities and do not include delivery and testing of skills development interventions. Later-stage projects include delivery and testing of interventions.
Early-stage and late-stage innovation are ways of thinking about where projects are on an 'innovation cycle'.
Innovation is a process for doing things differently. It is inherently messy with uncertain outcomes, characterized by continuous learning and adaptation. Lessons from successful incubators and innovation hubs around the world show that it is very hard to "engineer" or plan innovation.
At the same time, there are approaches and processes that can create the conditions conducive to success. When we think of an innovation cycle, we think of a process with continuous feedback that includes 1. needs assessment, 2. concept generation, 3.research, design, prototype 4. delivery and iteration 5. Scaling and 6. Systems change. (see diagram)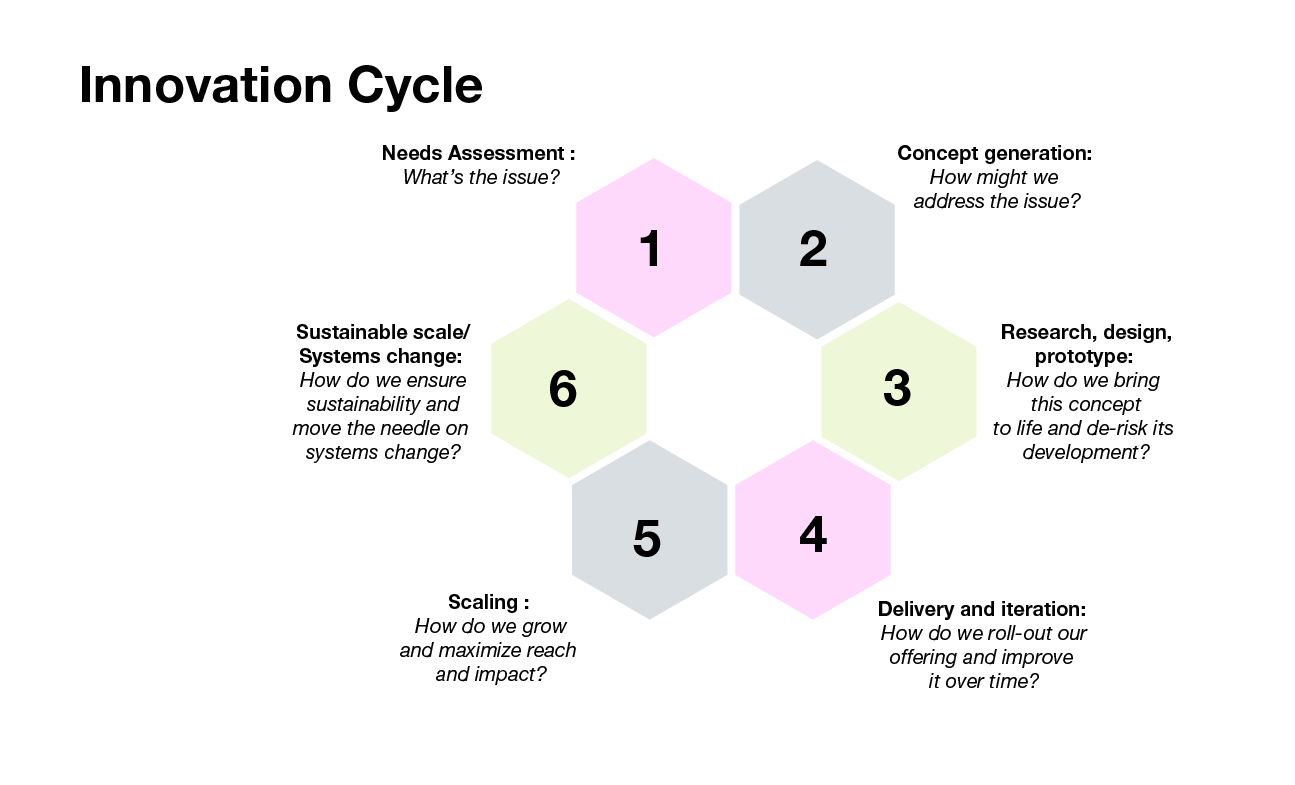 Early-stage innovation tends to be focused on needs assessment, concept generation and research, design and prototyping. Later stage innovation is focused on delivery, scaling and potentially, system change.
Although continuous learning is a necessary part of every stage of innovation, if most of your activities are based on delivery or implementation, your project is likely in the later stages of innovation and your proposal will be expected to demonstrate well-specified need, and clear rationale around design and expected outcomes and impact. If those pieces are not in place yet, consider asking for a small front-end grant to do the early stage work as a step towards a larger grant.
The Call can provide funding to early seed ideas as small as $25K, while larger approaches could reach $2.5M. Proposals and corresponding budgets will be judged alongside the selection criteria.
We do not know how many projects will be selected within the amount allocated for the call ($15 million). Final decisions about funding will be based on independent assessment of project quality and potential for evidence, organizational health and the need for a balanced portfolio of projects.
The Centre will be selecting projects on a continuous intake basis. We will be prioritizing proposals that target sectors, regions and populations where disruptions have occured.
A recording of the webinar, the slide deck and updated FAQs will be available on the FSC website.
Across all of its action-research projects, FSC aims to fund on a 1:1 match basis. There is not a requirement for a 1:1 match on individual projects, and matching funds are less likely for early-stage innovation projects, research and network development.
In-kind contributions are considered matching funds.
In-kind contributions and matching funds may be indicated in the project budget (as part of the full proposal application). The budget income sections enable the Centre to determine if the income is in-kind or otherwise.
The lead organization must be a Canadian entity. Partners may be internal and/or external to Canada.
Multiple researchers from the same post-secondary institution can apply for research funding.
A post-secondary institution can be the lead on a later-stage innovation, early-stage and network-development project. Projects of this type should be signed by the VP Research or appropriate authority to avoid duplication. It may also be worth considering whether another project partner can be the applicant which enters into an agreement with FSC.
No. Please refer to the list:
Eligible expenditures include:
Salaries, including benefits for personnel;
Expenses related to project administration, up to 12% of the funding requested;
Project participant costs (i.e. honorariums for surveys, focus group participation, etc);
Office supplies and services;
Equipment and software;
Financial and professional services required for the delivery of the project;
Telecommunications/courier charges (e.g., telephone, Internet, mail and courier);
Production costs for resource development such as graphic design, printing, translation into other languages, alternative formats;
Expenses associated with outreach events and training sessions directly related to program activities;
Audit costs, not withstanding they are incurred outside of the Project Period;
The cost of travel, meals and accommodation in accordance with the rates for public servants set out in the National Joint Council of Canada's Travel Directive; and,
Hospitality costs incurred in accordance with rates set out in the Directive on the Management of Expenditures on Travel, Hospitality and Conferences, Appendix A, section 2.3 of Canada's Treasury Board.
Ineligible expenses include:
Costs not directly associated with meeting the deliverables and milestones;
Costs related to proposal development (including personnel costs);
Capital costs (e.g. land, building, vehicles, leasehold improvements);
Entertainment expenses, gifts and alcoholic beverages;
Reimbursement for airfare purchased with personal frequent flyer points programs;
Fines and penalties;
Donations in the form of goodwill and other intangibles;
Opportunity costs;
Standard discounts;
Interest charges;
Allowance for interest on invested capital, bonds, debentures, bank or other loans together with related bond discounts and finance charges;
Depreciation of assets;
Expenses and depreciation of excess facilities;
Annual general meetings, budget deficits, membership fees, fundraising activities, committee and political meetings, or religious activities;
Costs covered by other government funding;
Profit;
Contingency or unexplained miscellaneous costs; and,
The portion of the cost of any goods and services purchased by the Recipient for which the Recipient may claim a tax credit or reimbursement.
The proposal limits the number of characters, including spaces. The character counts are based on a standard calculation of 1 word to 7 characters in English, 1 word to 8 characters in French.
Unfortunately, at this time we do not have the capacity to provide individualized feedback. We will provide an overview of strengths and weaknesses in applications.
In general, the policy of FSC is one grant per applicant. If your early-stage application is ready to move along the innovation cycle, please contact the project coordinator with whom you have worked at FSC to discuss the process.
Video files can not be uploaded. Links to videos may be embedded in text, but reviewers are expected to read the text and will not necessarily follow all hyperlinks.
Image files (e.g. jpg extension) can be uploaded for certain questions.
The full proposal application form accepts PDF uploads for all fields, except the budget template which is for an Excel (xls or xlsx extension) file upload.
There are a number of points in the application form where you are invited to upload supplementary documents (e.g., CV , previous publications , reference lists). There is no space for a general appendix.
Reviewers may, but are not expected to, pursue hyperlinks. Key information should be embedded in the text.
Applicants are asked what evidence they are using to suggest their project will likely be effective. There is space to upload either evaluations or reference lists in response to those questions. Citations (whatever format) for evidence on which you are relying are expected.
Financial contributions from partner organizations or others should be specified in the letter of support. If you have a financial commitment from a partner, that can be included in the budget which should align with the letter of support. If you've got a freestanding contribution agreement please note it in the budget.
Proposals will be evaluated on the question of whether applicants have been able to involve representatives of the target audience and key stakeholders in project planning, design, implementation, monitoring and evaluation. The applicant can indicate its engagement efforts and how the target groups contributed (if relevant). E.g. partnership development, board participation, participation in focus groups.
Yes, we would like to see involvement of youth at every stage. Appropriate ways of involving different communities will vary depending on the group.
Please review the application form to identify the industry sector(s) your project will focus on. We will be using economic and labour market trends to guide our priorities. These are unprecedented times. The Centre understands hardship will look different across all sectors, as will areas of opportunity.
No, the application form is an online form.
The questions about the governance of the organization refer to the institution as a whole. Where appropriate, you may also provide relevant information at the unit/division/department level.
There is no restriction on commercializing your work product after the grant period. The intellectual property will belong to the creator of the work product (see the answer to question 5). You are required to cooperate with the Future Skills Centre in sharing information that comes out of the funded work. Please see details in the attached contract.
Our goal is for target funding decisions to be made within one month of submission date. Projects may be asked to participate in an interview or to provide additional information, which may result in some delay.
Yes, many skills development projects have an impact that extends over years. Your proposal should highlight the long term vision and identify some of the short-term progress indicators that are visible within the project time.
Anyone listed as a partner at the full proposal stage is expected to produce evidence of the partnership in the form of a commitment letter specific to the project showing the shared understanding of the relationship between the parties, how the lead organization and partners are going to work together, and enumerating any financial or in-kind contribution to this project from the partners.
A red flag would be a lack of evidence, 'killer' risks that could halt the delivery of the project activities/achievement of outputs, factors that can impact organization health, a mismatch between activities and budget, and a lack of clarity about goals.
We are looking for the best available evidence. We recognize that not all organizations will be in a position to provide experimental evidence about the effectiveness of their model. Generally, however, the best available evidence that goes beyond anecdotal and experiential learning, e.g. evaluations of related projects which suggest the intervention or approach works; evidence that the skill-set proposed will in fact increase employability, etc.
Even for innovation projects, it will be beneficial if we can see that the model you are proposing is evidence-informed: that you have a reason to believe that the activities you are proposing will lead to desired outcomes. We want strong answers to the question, "What leads you to believe that your proposal will work"?
The primary purpose of a network proposal is to engage communities facing a skill development challenge — or groups of potential users to organize, share knowledge or strategies. An innovation project/pilot proposal is intended to develop, test and/or scale new models or solutions for skills challenges.
Future Skills Centre is committed to supporting the development of networks for knowledge-sharing in the skills development sector. Relationships with organizations like all of you are key to that network-building. We intend to develop multiple avenues for two-way and cross-organizational conversations. We are not making longer-term funding commitments at this time.
We need a clearly defined lead organization. Funds are disbursed to one organization and that entity would take ultimate responsibility for the project. The grantee may have separate independent agreements with partners, contractors, etc.
No. The Centre expects partner letters which express a commitment to working together and specify the commitment to a high degree as to what the partner will do; this relates to capacity to deliver. The Centre may or may not fund the submitted full proposal or some of the proposed expenses, applicants are still being assessed so we do not expect these commitments to take a contractual form at the time of submission. The lead organization can decide if it wishes to enter into Memoranda of Understanding, agreements, contracts, etc. in the absence of a funding agreement with the Future Skills Centre.
The application can be revisited and revised before submitting it. No revisions are possible after submitting.
No. The FSC will fund up 12% for Direct Administration Costs of the project.
The project lead is the most appropriate person, in the view of the organization, to receive correspondence from the Future Skills Centre. It should be someone with an overall view of the project who is able to answer questions and ensure information from the Centre is properly shared with partners, other staff within the lead organization, and organizational leadership. The Centre prefers there be only one project lead.
The budget should include costs incurred by both the lead organization and any delivery partners.
Details are not required at this time (e.g. unit costs and quantities). Additional details may be requested at a later stage of the process.
Stipends or consulting fees for permanent faculty at universities or colleges should not be included in project budgets. The financial cost of one course release per year for academics with significant delivery responsibilities will be considered as part of the overall budget.
Future Skills Centre is interested in good ideas that are aligned with the focus of the call, with strong project design, from organizations with capacity to deliver and contribute to equity diversity and inclusion. Organizations which have already been funded may submit new proposals for distinct projects that are aligned with the current call.
Partners must be a registered charity, registered business or individual based in Canada.
You are able to submit a later or early stage project if the first one is unsuccessful, please be sure to submit prior to the September 1st 2020 deadline.